Custom Golf Cart Wraps
---
Sundown Wraps is St. Augustine's choice when it comes to a custom wrap for your golf cart!
St. Augustine FL, home of the World Golf Village, and home to the best looking golf carts in the world! Sundown Wraps loves to help Golf Cart owners "trick out" their carts!
Wrap your golf cart for your favorite sport, whether it is football, baseball, hunting, fishing, just let your imagination be your guide!
Sundown's team of design professionals and vinyl wrapping specialists will transform your plain golf cart into a masterpiece on the golf course. Imagine driving your tricked-out cart at your next tailgating party!

Golf Cart wraps make the perfect business advertisement tool as well!

Sundown Wraps would love to help!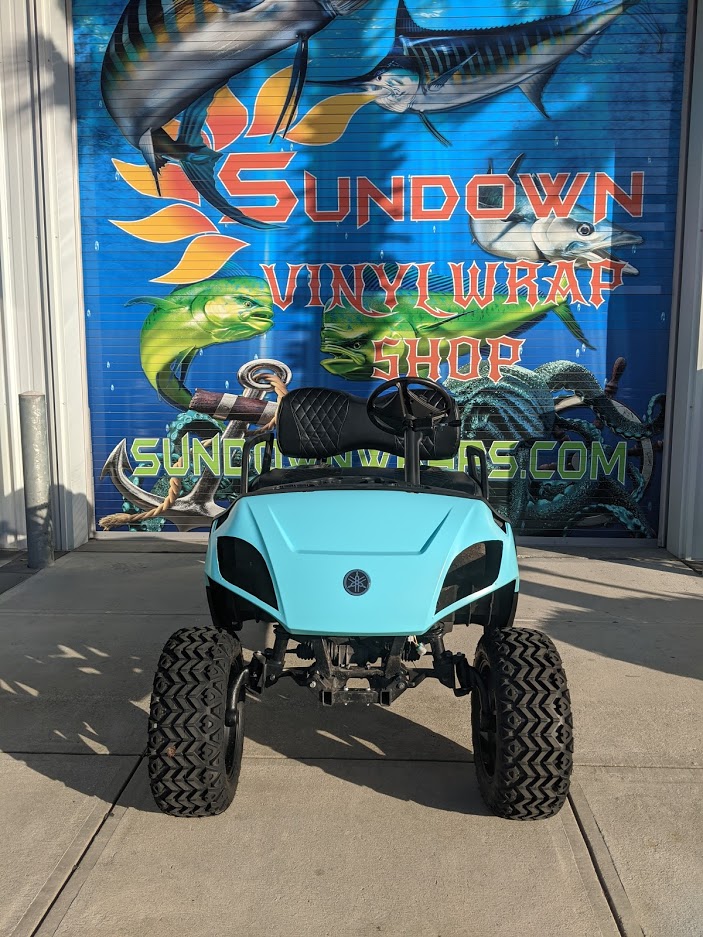 ---
Affordable Golf Cart Wraps
Below you will find several golf carts that Sundown Wraps has customized.
Designed to Last!
Our custom Golf Cart wraps are printed, laminated vinyl that is cut to fit and encase your Golf Cart perfectly. Wrapping a Golf Cart is usually for the purpose of giving it a new look, but doing so also protects your carts original finish from fading and scratches.
While Golf Cart wraps are often used for aesthetic purposes, businesses have discovered and made good use of the endless advertising potential in Golf Cart wrapping. They are perfect for the golf course, tailgating, and just rolling through the neighborhood. Golf Cart wraps are a highly effective means of product promotion and are considered by many a worthwhile investment.